Hello, I'll be reviewing The Face Shop's "FACEit Styling Auto Gel Liner" in
black
and
brown
. Phew, that's a long name~
This is the same eyeliner used by
Hong Sunghee
in an episode of
Get It Beauty
! HSH is a celebrity Korean makeup artist (she is Suzy's makeup artist!), and Get It Beauty is a very popular makeup/style tip show in Korea.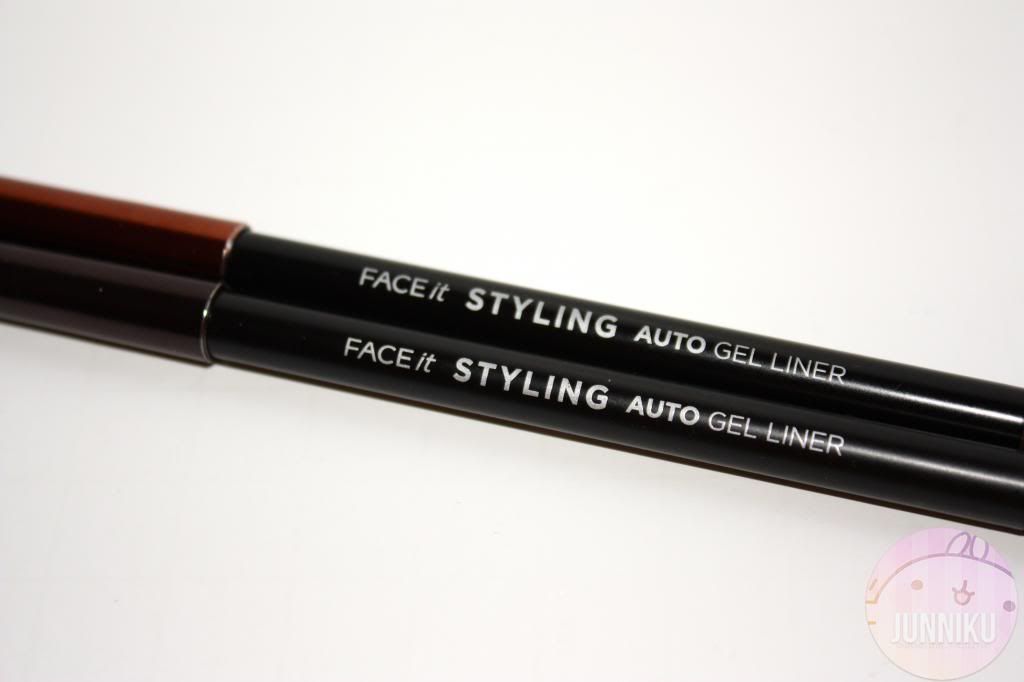 [Read more, and see the pictures!]
I've also included the link to the specific "Get It Beauty" episode.
[Note: I threw out the packaging after I took photos of it. Unfortunately, said photos turned out hideous and completely unusable in this post... boo!]
Description and information
A soft gel liner in a pencil! A super easy to use pencil-type gel liner!
A new pencil-type gel liner free of the inconveniences of past gel liners. packed in a pencil form, a new concept, for smooth coloring and easy application even by a novice.
Clear coloring and water-proof functions of a smudge-free eyeliner! A dark black/brown eyeline, clearly defined as if drawn with a creamy gel liner, highlights the eyes, while the water-proof function resists water and perspiration to control smudging for clean eye make-up for an extended time.
A super easy auto pencil type that does not require a pencil sharpener. An auto-pencil type is free of the inconvience of requiring sharpening as previous pencil liners. You only need to twist up when needed.
(Note: Personally, I find that the sharpener is useless. Doesn't even sharpen properly.)
The Face Shop store price (in Pmall): $13
Dot along the lash line as if filling in gaps between lashes. Due to its soft and creamy texture, keep the lead short about 2mm to avoid any breakage when using. To sharpen the eyeliner, twist up the built-in sharpener at the end of the pencil. Use waterproof make-up remover to cleanse.
Colours
These eyeliners are currently available in 3 different colours: Black, brown and khaki!
The black and the brown versions do not contain shimmer.
Swatch pictures
Eyeliner in brown; no eyeshadow or mascara on
After letting it set,
I rubbed my hand pretty darn hard. (Can you see the red parts of skin? Hehe.) Very little product rubbed off, you can't even tell.
On my eyes, this eyeliner will start to smudge (on my bottom outer corner of eyes) very slightly by the 6-8th hours of wear. That isn't too bad, espeically because the smudge isn't a "holy crap ew racoon eyes", but rather a slight smoky effect. That's how little it smudges!
Ew, gross~ This picture is taken after 3 light swipes of the hand.





Although these eyeliners passed the rub/smudge test, they didn't do so well in the waterproof test. I just put a few drops of water on my hand. The picture above was taken after another couple of swipes, plus a tissue pat. (I tested it as if I had yawned, teared up, and wiped/rubbed my eyes)
Final thoughts!
This is a decent eyeliner - it's easy to use and doesn't really smudge on my oily lids. It stays on for a long time. I usually wear my eyeliner for 9+ hours; The Faceit styling auto gel liner clings on like a monkey, given that I don't tear up a lot and rub my eyes.
(If I wore this in the spring allergy season, that would be a nightmare. Just saying.)
You would like this eyeliner if:
- You're a beginner, and want an "easy-to-use" eyeliner
- You're lazy (because who likes to sharpen pencil liners?! I don't~ The twist end is great!)
- You want a longlasting eyeliner
- You like a simple eyeliner look (no glitter, etc)
You would not like this eyeliner if:
- Your eyes tear up a lot, and you rub them
- You like glitter eyeliners
So would I repurchase?
I have repurchased this in the past, but that was before I tried various other eyeliners and brands. Honestly, t
he only thing that I REALLY, REALLY like about this particular product is of its twisty end, so you don't have to sharpen it. (If Holikaholika Jewel liners came in this form, I would buy all of the colours - and 10 of each. Seriously.)
But no, I wouldn't repurchase it anymore.

It works well as an eyeliner, but

its not as smooth

as other eyeliners (Holikaholika jewel light), and smoothness/glide is really important to me. I don't want to tug at my eyelids!
Here's the Youtube clip (Get It Beauty) that this eyeliner was featured in.