Hi lol.
As always, I'm back after poofing for
so long.
As always, I WILL NOT DISAPPOINT WITH THE HAUL POSTS.
You guys seem to really, really like my haul posts
Today is a different type of "haul" - it's one of those infamous "What I got for Christmas" posts. I've literally watched so many WIGFC videos on Youtube, I legit feel the need to go all
LOL. You know they say that stuff in the beginning of every. single. video. LOL.
But seriously, take it easy man. It's just a Christmas haul-ish post.
It makes a really good gift guide, too. Am I the only one that uses it as a gift guide?
Leggo!
I'll organize this post a bit. Here's a (very loose) Table of Contents.
1. Skincare
2. Makeup
3. The other cool stuff
CLICK TO READ MORE.
1. Skincare
I got quite a lot of skincare and makeup this year - some stuff from Sephora, some stuff from online Korean shops.
My friend got me this skincare from an online Korean beauty shop! I've wanted this skincare for a while. I've literally heard so much about
COSRX
, and everyone is crazy about the brand now. My main to-go skincare brands will always be Laneige, IOPE and Sheseido...
BUT OMG!
THE COSRX DOES NOT LIE, BRO.
I've always had a few (very, very, very, almost "permanent") clogged pores on my right cheek, but literally. This zapped them away.
Holy MOLEY.
You have to be careful with it, though. I kinda over-did it the first week, and my face was a bit red.
I heard crazy stuff about the
acwell 5.5 cleanser
, too. I haven't tried it yet, as I'm trying to introduce all this new skincare slowly. Bit by bit. So my skin doesn't freak out, y'know?
I heard crazy stuff about the
su:um37 miracle rose cleaning stick
as well. Haven't tried it yet, but will let you know! This product had a crazy cult following, and was sold out for the longest time... thankfully friends grabbed it for me!
- More Skincare
Ayy, I'm continued to be showered with skincare.
I was given these products; none of them are new to me, I always have them in my skincare shelf. Except the IOPE ultimate hydro cream. I haven't tried that yet, and I don't really know anything about it - haven't read any reviews yet.
BUT I TRUST IOPE WITH MY LIFE.
The Laneige multi cleanser
is my
night
foam cleanser. I don't keep up with pH levels and all that, so I'm not sure the pH of this. But eh, it seems to work well? For the past 3 years so... I'm good.
The Laneige brightening serum and cream
... it's amazing. I was gifted these and I'm so happy because I'll be good for the next 3ish months!
I love it, can't live without it, must maintain nice skin. 10/10.
Thank you!
- Skincare/Makeup
We're in that weird space between the "skincare" and "makeup" category, so... teehehehee.
Joseon Beauty Cream, Stila stay all day liquid eyeliner, Shiseido eyelash curler.
The trio.
I've used the
Stila eyeliner
before, it's pretty good!
I got my first Stila liner as a replacement for my Marc Jacobs eyeliner (because MJ was too expensive and ran out so quickly). I think this is my go-to eyeliner now!
Another friend spoiled me with the
Joseon Beauty Cream
, which I've been curious about. Apparently this product is
crazy popular
as well, and tbh even if it weren't this popular, I'd buy it.
DO YOU SEE THIS GODLY PACKAGING? I'M SO SOLD.
I might do a review on this, if there hasn't been too many reviews on the blogosphere lately... (It's really popular lmao)
And guys.
This eyelash curler.
Y'all know I'm
psycho
about my eyelashes. But did you know -
I never before had an eyelash curler above $5?

wat
I always used curlers from
The Face Shop
(which are $3, btw). People kept raving about this, I never bought it... but finally this month I got one! It's funny - a day or two before I received this curler, I actually caved and bought it. When I was gifted though, I just ended up giving the curler I purchased too. Lol.
Never.
I believe.
2. Makeup
From my family friend (who's visiting from Korea this winter), I got a
Sulwhasoo cushion foundation!
Y'all know I'm
crazy
about this cushion.
I use it every day.
It makes my skin look all glowy, but not in the "ew" way. lol. hehehehe.
My other Sulwhasoo cushions (same line, same colour, lol.) Welcome to the fam, new cushion.
The next Christmas gift is an interesting one (imo, lol). I participated in this year's
Reddit Secret Santa exchange
. If you don't know what that is, it's basically a
giant internet secret santa
.
My Secret Santa (still have no idea who it was, LOL) apparently did some next level stalking, and found out I'm obsessed with Laneige.
A week later, I got
Laneige skincare and makeup
in the mail! It was so cutely wrapped in gift wrap (I posted the pic on my Snapchat), and there was a cute little card as well.
I received the
Laneige trial/travel size "Perfect Renew" line.
I haven't actively used the line before, but I have tried the refiner and emulsion. It feels really, really nice.
I also got the
travel set for the "Moisture" line
, the 4 piece set. I use the Water Bank gel cream and the essence DAILY. I just came back from Mexico (yesterday, actually), and took it with me. Saves so much space and luggage weight!
So convenient!
Last, I got the
little Laneige makeup set
. The foundation is so watery and nice, I had to look it up. I might actually get the full size of it...
The tiny lipgloss keychain is the CUTEST ever. I'm gonna use it. teehehehe. It's too cute.
(I'm putting this gift in the "makeup" category... it's mostly skincare, but whatevs. There's a tiny keychain lipgloss in here, so it counts. lol.)
3. The Other Cool Stuff
I got a lot of other cool stuff, hehe.
From my bae buddy, I got an
Aritzia scarf
! She saw the pattern I wanted on Snapchat, and got it for me. 10/10 bae.
I love the colours, and the pattern is so nice too. Yayayya~
Another gift from her, I got a
Victoria's Secret Kimono robe!
I LOVE these robes - I have the black one already, and use it all the time. It's absolutely perfect.
She got me the robe in a pretty cherry red colour!
I definitely need a little colour in my life tbh.
Thank you my #1 bae grill
It's just so pretty~~~~~ very silky and smooth~ Yaaas.
And from my brother, I got yet another
Aritzia scarf
! Wao!
I was surprised at the one he picked out. He knew I wanted a scarf in a Birchy colour, and definitely pulled through.
I LOVE IT.
I'm gonna collect Aritzia scarves now. Teeehejk.
From my dad, I got
2 gifts
this Christmas! The first one, I got much earlier (ahem, in early November) but he was adamant that "its a christmas gift so don't ask me for anything". LOL.
(The next few pics are a little dark and shitty. I received them on different days, so the lightning for some pics were off and dark.)
He got me the
iPhone 6s.
I originally wanted the pink colour, but in the end, I got the gold. I love it!
I had the
Samsung Galaxy 4
before... and eh. It was my first Samsung, but I didn't like it. It's not as comfortable for me as the iPhone.
I'm an Apple kind of girl.
#TraitorKorean
My other gift this year was a pair of
Bose earphones
.
Mine actually broke (!!!!) and it was acting seriously weird. If it was connected to my phone and playing music, it would randomly pause, randomly start, randomly fast forward (so the voices sounded like chipmunk voices...), ugh. It was a mess.
I love Bose earphones.
They're a white pair (specifically for iPhones), and I really like it. I'm using right now, tbh. yayayay.
Moving on, I got more gifts from our family friend in Korea! They're always super nice and they the #1 bae. (Next to bae buddy)
I got a pretty red thread bracelet from
Cruciani
, and a silver necklace from Korea. The necklace is a little out of focus in the picture, but it's really dainty and tiny. I really like it. :)
The next "gift", I got for myself. A "good job surviving thus far" kind of gift.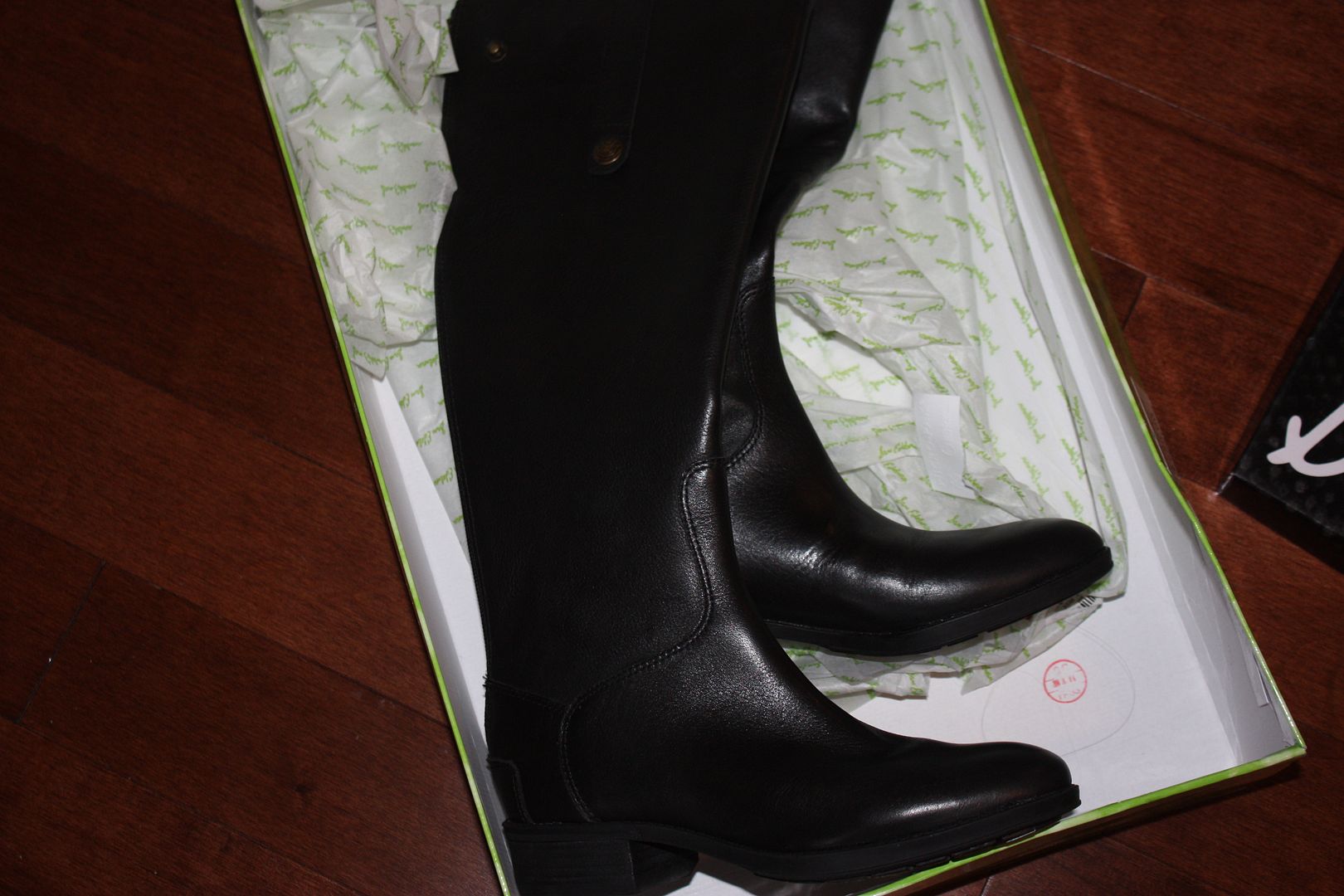 Really shitty dark pic, but eh...?
The
Sam Edelman penny riding boots
- they are a
MUST
have.
I have a pair from 2 years ago, I wear them literally all the time (in the fall/winter). I was frantically looking for a second boot, similar to the Penny, as a "backup".
I found the actual Penny! Better than any "similar to penny" boot, lol. It was on sale at The Bay (The Canadian version of Nordstrom, basically...) and omg. I snagged it at a great price. IN MY SIZE, TOO!
Definitely gonna get a lot of use out of these babies. You really need to check it out, they're so so so comfy!
From Erika, my brother's girlfriend, I got several goodies LOL. Sorry, the pictures for the following are so, so bad (very late at night).
She wrote me a really sweet handmade card, and got me a water bottle, lip balms and hair ties! ALL essentials.
I LOVE the
water bottle
! It's made of glass and there's the silicone purple heart sleeve... very nice. Erika's basically the
"water girl"
, man. Whenever I see her she ALWAYS has a water bottle!!!!
Healthy.
Very healthy.
I'm basically at level "permanently dehydrated", so a water bottle is a very good gift! Thank yew my bae.
She owns a hamster. It's so cute.
I got some lip balms, and OMG. I always need lip balms. I got a super cute
Fresh balm set.
I bought last year's set (2014) and it was nice... but the colours weren't too usable for me.
THESE ARE.
I also got a
Jack Black lip balm
(it's considered a "men's lip balm"), but it's honestly my favourite out of the bunch. Out of any lip balms that I own, actually.
I prefer it over my Dior glow as well.
This one is now a staple in my purse!!!!
I also got some hair ties - these are really useful because they're soft and don't leave the "kink" in your hair after!
Love~
Moving on! I got some Christmas money this year, and used some of the money to buy some things I've been needing. For example,
Clarisonic brush heads.
I was given the Clarisonic Plus as a gift from work, but I didn't really want to use the brush head it came with. ("Sensitive", the black and white regular one that all Clarisonics come with.)
I went to Sephora and bought a
2 pack
! It was a better value than buying just one, you see. I would have preferred it to have 2
"Radiance"
brushes, but eh. Maybe on days when I'm feeling extra dirty, I'll use the sensitive.
Radiance brush heads are softer and gentler than the sensitive ones.
I got some
gift cards
from my family as well!
From my grandparents, I got an
Indigo gift card
(It's basically like the Canadian Barnes and Nobles). I used it to buy a book (Shopaholic, LOL) and some stationary. Indigo has really nice home stuff!
Btw, when did bookstores decide that selling home stuff was like... relevant? Is it relevant? Idk. But every single bookstore you go to nowadays has at least a LITTLE section of home goods. (Candles, glassware, rugs, etc...)
From my cousin (who just passed her big pharmacy exam!!!) I got a
Starbucks gift card!
Yo, this card is actually gonna last me FOREVER.
And I actually hardcore get SB every single day.
My last gift was again from my friend, who really spoilt me this year. A
Louis Vuitton Favourite MM
crossbody!
The picture really does it no justice - it's so pretty in real life LOL. I am master picture shit taker.
It even has a little golden chain in the inside (not pictured).
Thank you, hehe~
Anyways, I'm sorry this post was late! I hope you guys had a really great Christmas/Holidays, and a happy new year.
For 2016, I've been playing with the idea of making a Youtube channel, but I'm not too sure yet.
What'd you give, or get? How'd you spend the Holidays?